Moros: JUETENG For Deliverance?
Understanding The Mindanao Conflict
Samuel Tan
Ethnic Cleansing In Mindanao
Fred Hill
Compensatory Justice For Mindanao
Patricio Diaz
Is Federalizing The Republic The Solution To Mindanao?
Aquilino Pimentel, Jr.
Constitutional Accommodation of a Bangsamoro Islamic Region
Soliman Santos, Jr.
Mindanao Movements
Nash Maulana
Sulu Saxophone
Carolyn Arguillas
Explaining Erap's
B(ad) Movies
Said Sadain, Jr.
The Palestinian Intifada
Zafar Bangash

Creative Writing Section
What's Inside:
A Muslim's prayer for peace
by Aminah Sharief Goling
In my own Mindanao
by Geejay Arriola
Abdul on the eve of an ambush
by Said Sadain, Jr.
Then & Now
by Macario Tiu
Death On The Tarmac
by Fr. Picx Picardal
Spirits In The Box
A Short Story

Featured Links
The Academy of Natural Sciences
The science behind some of today's leading environmental issues
Digital Libraries
The here and now of the future of libraries: they're on-line, they're invaluable
Bioethics
When Eraptions and political ethics are done and over with, there is still bioethics!
IslamZine
Learn more about Islam from the humble efforts of a Dubai Webmaster: May The Force Be With You!

Archives
More Bugsnbytes
The book BUGS & BYTES, In Bigger Prints, is now available at National Book Store outlets in MetroManila and the Universtiy of the Philippines Press Bookshop in Diliman, Quezon City.
Support B&B by searching and buying your books & CDs from here.
Death on the Tarmac
by Fr. Amado "Picx" Picardal, CSsR

You sprawled on the tarmac
like a dove in flight
that that has been nailed to the ground.

They finally stopped you.
Or so they thought.

The bullet that pierced your skull
pierced our frigid hearts.
The shot that echoed throughout the archipelago
continues to reverberate
in our wounded hearts.

No bullet can ever kill a dream.
It will only break the vessel
from which the fragrance is released.
It will only crack the dam
from which the rising waters
will break through.

Ninoy,
your death has freed us from our fears
and sparked a fire in our hearts
that will continue to rage through the night
until the dawning of the new day.

You died
that we may rise.


-------------
Written in September 1983, Fr. Picx Picardal recently posted this poem to the Mindanao1081 and Neveragain e-groups in memory of the ideals and sacrifices of the assassinated former Philippine Senator and opposition leader Benigno Aquino.
Other Poems In This Issue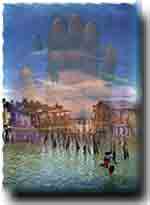 A Muslim's prayer for peace
by Aminah Sharief Goling
In my own Mindanao
by Geejay Arriola
Abdul, on the eve of an ambush
by Said Sadain, Jr.
Then & Now
by Macario Tiu
Spirits In The Box
A Short Story