Mindanao is Bleeding
Statements of Peace

Unleashing the Dogs of War
by Said Sadain, Jr.

The Abuja Islamic Education Trust
Islam Through E-Mail
What is Shariah?

Poetry
written by
Raul Moldez
Rene Bernales
CAMPEACE2000

Essays
written by
Fr. Eliseo Mercado, Jr.
Mehol Sadain
Said Sadain, Jr.

Featured Links

Growth Mindanao
The other faces of Mindanao

Manila Moods Online
Rasheed Abou-Alsamh, a Saudi-American journalist goes online with his Arab News column on everything Filipino

Virtual Bugs
Explore the world of bugs, the ones that actually bite

Innovative Ideas Design
Angel's artworks grace this issue. Visit her site too.

Archives
More Bugs & Bytes

The book BUGS & BYTES, In Bigger Prints, is now available at National Book Store outlets in MetroManila and the Universtiy of the Philippines Press Bookshop in Diliman, Quezon City.

Support B&B by searching and buying your books & CDs from here.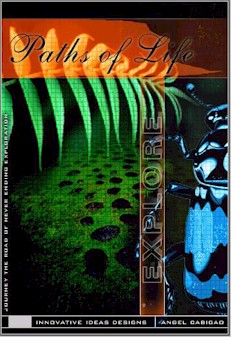 (Artwork by
Angel Cabigao
of Innovative Ideas Design)
BUGS & BYTES 2nd Quarter 2000 issue focuses on the current Mindanao hostilities and the urgent call for peace to stop the insanity and go back to the negotiation table.
'Mindanao is bleeding' compiles some of these calls for peace and other links to incisive writings and opinions about the conflict.
'Unleashing the dogs of war' is critical of government failings in the current tide of violence in Mindanao and warns of more debilitating consequences to a military option.
The Abuja Islamic Education Trust enlightens us about Shariah as an alternative system to secular governance and community.
The Essays section explores Christian - Muslim relations, the Islamic view of jihad and intelligent lives.
The Poetry Section features the poems of Raul Moldez writing from Cagayan de Oro City in Mindanao, Rene Bernales of Jeddah, KSA and the CAMPEACE 2000 Kids.
Gracing some of these pages are artworks of Angel Cabigao of Innovative Ideas Design. Only 17 (and makulit!) but very talented.
Explore the archives and featured links as well to get better acquainted with the world of BUGS & BYTES. To wrap it up, read the online book BUGS & BYTES, Adventure Into Personal Publishing, or better still, buy the book at National Bookstore & Powerbooks outlets now!