Mindanao is Bleeding
Statements of Peace

Unleashing the Dogs of War
by Said Sadain, Jr.

The Abuja Islamic Education Trust
Islam Through E-Mail
What is Shariah?

Poetry
written by
Raul Moldez
Rene Bernales
CAMPEACE2000

Essays
written by
Fr. Eliseo Mercado, Jr.
Mehol Sadain
Said Sadain, Jr.

Featured Links

Growth Mindanao
The other faces of Mindanao

Manila Moods Online
Rasheed Abou-Alsamh, a Saudi-American journalist goes online with his Arab News column on everything Filipino

Virtual Bugs
Explore the world of bugs, the ones that actually bite

Innovative Ideas Design
Some of Angel's artworks grace this issue. Visit her site too.

Archives
More Bugs & Bytes

The book BUGS & BYTES, In Bigger Prints, is now available at National Book Store outlets in MetroManila and the UP Press Bookshop in UP Diliman, Quezon City.

Support B&B by searching and buying your books & CDs from here.



Last Updated on May 19, 2000
The following documents are calls for peace and statements of protests of stakeholders on the war that flared up in Mindanao during the first half of the Year 2000 between the Government of the Republic of the Philippines (GRP) and the Moro Islamic Liberation Front (MILF) forces, causing deaths and destruction of property, and the dislocation of over 230,000 civilians to date. These materials are just a few among the many that were circulated in the Mindanao1081 eGroups mailing list in the months of April and May 2000 (click on the titles below to read the full texts...)
'Stop The War!' by Fr. Eliseo Mercado, Jr.
Statements of The Independent Fact-Finding Committee of the GRP-MILF Peace Talks
'Let There Be Peace!' by Fr. Sean Purcell
'Discomforting Questions' by Fr. Orlando Quevedo
Bishops-Ulama Calls For Ceasefire
'Pain ... pain' by Bai Maleiha Candao
Kids For Peace Letter of Rosan
'Stop Hostilities For People's Sake' by Mindanao Senators Pimentel, Guingona and Barbers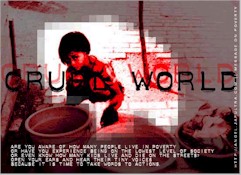 cruel world, artwork by Angel Cabigao
Other Relevant Links To Mindanao Writings
(these links will open in a separate window)
Ten Commandments of The Mindanao Peace Process
Fr. Eliseo Mercado, Jr., Philippine Daily Inquirer, April 1, 2000
Abu Sayyaf: The Beginning
Rina Jimenez-David, Philippine Daily Inquirer, April 27, 2000
Muslim Kasi?
Michael L. Tan, Philippine Daily Inquirer, April 27, 2000
Abu Sados, Abu Salots
Herman Tiu Laurel, Manila Times, May 3, 2000
Twisting Islam Part I & II
Mehol K. Sadain, Philippine Daily Inquirer, May 5 & 7, 2000
The Movie Ends
Conrado de Quiros, Philippine Daily Inquirer, May 8, 2000
Rosan's Letter To Kids For Peace
Carolyn O. Arguillas, Philippine Daily Inquirer, May 8, 2000
Across The Globe, Mindanaoans Press ... For Peace
Philippine Daily Inquirer, May 9, 2000
Intervention
Editorial, Philippine Daily Inquirer, May 11, 2000
We Told You So
Herman Tiu Laurel, Manila Times, May 11, 2000
Missing Links In Mindanao Peace
Patricio P. Diaz, Philippine Daily Inquirer, May 13, 2000
Unleashing The Dogs of War
Said K. Sadain, Jr., Philippine Daily Inquirer, May 13, 2000
'Berdugo ng Moro'
Carolyn O. Arguillas, Philippine Daily Inquirer, May 15, 2000
Vigilantism
Editorial, Philippine Daily Inquirer, May 16, 2000
'What Happens To Muslims Happens To Christians'
Rina Jimenez-David, Philippine Daily Inquirer, May 16, 2000