Moros: JUETENG For Deliverance?
Understanding The Mindanao Conflict
Samuel Tan
Ethnic Cleansing In Mindanao
Fred Hill
After Abubakar's Fall: What?
Patricio Diaz
Is Federalizing The Republic The Solution To Mindanao?
Aquilino Pimentel, Jr.
Constitutional Accommodation of a Bangsamoro Islamic Region
Soliman Santos, Jr.
Mindanao Movements
Nash Maulana
Sulu Saxophone
Carolyn Arguillas
Explaining Erap's
B(ad) Movies
Said Sadain, Jr.
The Palestinian Intifada
Zafar Bangash

Creative Writing Section
What's Inside:
A Muslim's prayer for peace
by Aminah Sharief Goling
In my own Mindanao
by Geejay Arriola
Abdul on the eve of an ambush
by Said Sadain, Jr.
Then & Now
by Macario Tiu
Death On The Tarmac
by Fr. Picx Picardal
Spirits In The Box
A Short Story

Featured Links
The Academy of Natural Sciences
The science behind some of today's leading environmental issues
Digital Libraries
The here and now of the future of libraries: they're on-line, they're invaluable
Bioethics
When Eraptions and political ethics are done and over with, there is still bioethics!
IslamZine
Learn more about Islam from the humble efforts of a Dubai Webmaster: May The Force Be With You!

Archives
More Bugsnbytes
The book BUGS & BYTES, In Bigger Prints, is now available at National Book Store outlets in MetroManila and the Universtiy of the Philippines Press Bookshop in Diliman, Quezon City.
Support B&B by searching and buying your books & CDs from here.
(Carolyn O. Arguillas is Chief of the Philippine Daily Inquirer Mindanao Bureau. 'Sulu Saxophone' first appeared in her Letter From Mindanao column, PDI, Sept. 25, 2000 against the background of a massive bombing campaign of Moro communities in the Sulu islands and a media blackout, supposedly launched by government forces to flush out an ostensible ragtag Abu Sayyaf kidnap gang. This article depicts with uncanny discernment and accuracy the situation of Sulu circa 2000, thanks in no small measure to government's policies and actions towards its Moro populace.)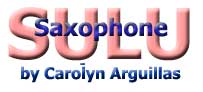 ''A SONG, played on a solo saxophone…a crazy sound, a lonely sound….And dance like it's the last night of the world.''
I can't remember all the lines of this song from ''Miss Saigon'' but why that ''solo saxophone'' song drove me to use the title above, the difference between ''o'' and ''u'' notwithstanding, is because these days, those who support the military option and the hostaging of the entire population of at least half a million people since Sept. 16, will never associate the Sulu of the Abu Sayyaf with the sexy sound of a saxophone.
And that is such a pity.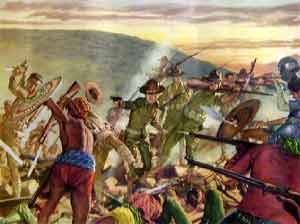 Because there is more to Sulu than just the Abu Sayyaf which President Estrada wants to reduce to abo (ash), a group consisting of 5,000 members or less than one percent of Sulu's population.
Because beneath Sulu's image of violence is a very rich history and culture that have survived, despite the little and big wars there.
Imagine how it was like 610 years ago (the province was supposed to celebrate its 610th founding anniversary last week); how it was like as a Sultanate; how, until the burning of Jolo 26 years ago, as the elders of Sulu remember the province so fondly, it was ''the little cup of silver,'' was the center of trading, arts and culture, had a busy nightlife, hotels (nothing compared with today's Peacekeepers Inn or Helen's Lodge) and all the amenities of a thriving society. Zamboanga City was rural compared with cosmopolitan Jolo and as elders in Sulu often say with a sigh: ''Zamboanga City would not be what it is now if Jolo had not been burned.''
Most of the professionals and businessmen, they say, sought refuge in Zamboanga (where refugees are not welcomed by its mayor now) and opted to settle down there.
Sulu 2000 is one of the poorest provinces in the country, with all the attendant problems of ''underdevelopment.''
As of Saturday, the military claims to have ''recovered'' two of 19 hostages (the Frenchmen said they escaped); killed 28 Abu Sayyaf members--''body count'' and ''50 or 60'' based on intelligence reports.
There are no ''hundreds of civilian casualties,'' Defense Secretary Orlando Mercado, Armed Forces chief Gen. Angelo Reyes and Sulu Governor Tan insist. ''Propaganda,'' Mercado said. They have not received such a report. Ergo, no report, no civilian casualties? Tan said there is a Human Rights Committee under the Joint Civilian-Military Coordinating Action Center but no one has yet filed a complaint before it.
Ergo, no filing, no violation of human rights whatsoever? Under the gun, who among the civilians would come out in the open and report to authorities about violations of human rights, of civilians tortured, massacred, killed?
The spate of summary executions in Jolo last week are being investigated by the police but were likely due to family feuds, robbery, etc., Mercado said.
So we are being conditioned to accept that the hog-tied bodies dumped in the town hall and garbage dumps in Jolo are a result of family feuds and robbery and not civilians suspected as Abu Sayyaf members who were tortured and ''salvaged'' (summarily executed).
On Day 1 of the assault, Schilling and the 12 evangelists were reported to have been killed by the Abu Sayyaf. Did the government source know he was used for psywar to get the rest of the nation to support the military option?
What is happening in Sulu now, we will never really fully know. Given the restrictions imposed by the military, we can only scratch the surface but it will take years before residents will be comfortable enough to talk without fear (as they did about the Feb. 7, 1974 burning of Jolo, in the post-Marcos era), to come out in the open (unlike now when many of them will talk but don't want to be identified).
A handful of journalists in Sulu are doing their best under very restrictive conditions, including the INQUIRER team (two of whom are from Jolo) whom some selfish journalists want ''flushed out.'' I can understand why the military will want to ''flush out'' our team there--they have tried, though unsuccessfully. (What crime have they committed? Being there just before the media ban was announced? Telling and showing the rest of the world what is happening there, no matter the restrictive conditions and risks to their lives?)
For journalists to suggest that our team be ''flushed out'' of Sulu is selfish. They complain of a news blackout but encourage it by urging the military to ''flush out'' the journalists now in Sulu. They want to assert their rights but want to curtail the rights of those who are now in Sulu.
This is not the time for selfishness or for scoops. Sulu is not a scoop. There's a war going on there and the dominant voices are the military's and Malacañang's.
If our team and the other journalists who risked their lives to get into Jolo had not been there, all we would know about what's happening in Sulu is what the military says is happening there. News coming out would be those churned out during military press briefings.
The ''partial'' lifting of the media ban is not something to be happy about although, obviously, the persistence of journalists staking out in Zamboanga City and the other journalists nationwide who have issued manifestos to assert their constitutional rights and the public's right to know, has left the military no choice but to yield. They will now allow a pool of journalists to go on a ''guided tour'' of Jolo this week, under military guard.
How journalists can operate under these very restrictive conditions is a big challenge. But journalists being journalists, they will find ways of finding out what's happening there.
The bigger challenge, however, is not only in getting government to totally lift the media ban but to lift the other bans imposed in Sulu.
Because to quarantine an entire island and hold hostage over half a million people is more Marcosian than Marcos (who had his Proclamation 1081 to do as he pleased). The Abu Sayyaf deserves the harshest of penalties but in going after less than one percent of the population, is punishing an entire island, imposing a news blackout, banning health and social workers from proceeding to areas where civilians need them most, justified?