The Choice Is Ours
by Prof. Rudy B. Rodil

Gone To The Movies
(Mindanao Series III) by Said Sadain, Jr.

Evelio Javier, EDSA's Sacrificial Lamb
by Freda Contreras

Headscarf
by Alia Zaldarriaga

Y2K: The Not-So- Phantom Menace
East Terror
Shari'ah Law
Southern Discomfort
Lessons To Learn
Chickens Eggs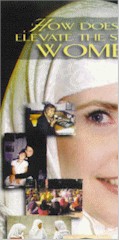 The tarha or headscarf is part of a Muslim woman's attire, much in the same way that nuns dress up in a manner to maintain their modesty. But why cannot some people who claim to be progressive and by implication, intelligent, just accept this as a matter of fact without resorting to such ridiculous measures of banning women (who ascribe to this dress code) from schools, from places of work and most recently, even from parliament? In a western society, is women's liberation to mean that women should 'dress to bare' or women should be free to choose their manner of dressing according to their convictions?
Read one lady's liberal views about her headscarf.
HEADSCARF
by Alia Zaldarriaga
Issues for the Modern Muslim Woman
A Muslim in Manila
Beauty and Grace in Islam