Moros: JUETENG For Deliverance?
Understanding The Mindanao Conflict
Samuel Tan
Ethnic Cleansing In Mindanao
Fred Hill
Compensatory Justice For Mindanao
Patricio Diaz
Is Federalizing The Republic The Solution To Mindanao?
Aquilino Pimentel, Jr.
Constitutional Accommodation of a Bangsamoro Islamic Region
Soliman Santos, Jr.
Mindanao Movements
Nash Maulana
Sulu Saxophone
Carolyn Arguillas
Explaining Erap's
B(ad) Movies
Said Sadain, Jr.
The Palestinian Intifada
Zafar Bangash

Creative Writing Section
What's Inside:
A Muslim's prayer for peace
by Aminah Sharief Goling
In my own Mindanao
by Geejay Arriola
Abdul on the eve of an ambush
by Said Sadain, Jr.
Then & Now
by Macario Tiu
Death On The Tarmac
by Fr. Picx Picardal
Spirits In The Box
A Short Story

Featured Links
The Academy of Natural Sciences
The science behind some of today's leading environmental issues
Digital Libraries
The here and now of the future of libraries: they're on-line, they're invaluable
Bioethics
When Eraptions and political ethics are done and over with, there is still bioethics!
IslamZine
Learn more about Islam from the humble efforts of a Dubai Webmaster: May The Force Be With You!

Archives
More Bugsnbytes
The book BUGS & BYTES, In Bigger Prints, is now available at National Book Store outlets in MetroManila and the Universtiy of the Philippines Press Bookshop in Diliman, Quezon City.
Support B&B by searching and buying your books & CDs from here.
In my own Mindanao
by Geejay Arriola

Your streets are sickly green
as their primeval colors have
faded through tortorous times.
Your walls are rainbow portents
a future written beneath
carvings of bullets and
bombs on grey, brick stones.
Your pubs are rich sounds
of struggle and
complacency unwinding
in tremulous orchestra
to beat the silence
of deaths passing.
Your cars weep like souls
stripsearched.
Your people sing sorrows
of joyous centuries
wiped away.
Your love and warmth are
as deep as the cold
that stings the soul.
Your laughters hurt, your cries
memories
of moving struggles
fought
in my own
MINDANAO.
-----------------------
[Geejay Arriola, a Mindanaoan artist wrote this poem while in Belfast, Ireland 1992. You can visit her website at http://www25.brinkster.com/silverwarrior ]
Other Poems In This Issue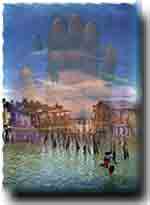 A Muslim's prayer for peace
by Aminah Sharief Goling
Abdul on the eve of an ambush
by Said Sadain, Jr.
Then & Now
by Macario Tiu
Death On The Tarmac
by Fr. Picx Picardal
Spirits In The Box
A Short Story