Moros: JUETENG For Deliverance?
Understanding The Mindanao Conflict
Samuel Tan
Ethnic Cleansing In Mindanao
Fred Hill
Compensatory Justice For Mindanao
Patricio Diaz
Is Federalizing The Republic The Solution To Mindanao?
Aquilino Pimentel, Jr.
Constitutional Accommodation of a Bangsamoro Islamic Region
Soliman Santos, Jr.
Mindanao Movements
Nash Maulana
Sulu Saxophone
Carolyn Arguillas
Explaining Erap's
B(ad) Movies
Said Sadain, Jr.
The Palestinian Intifada
Zafar Bangash

Creative Writing Section
What's Inside:
A Muslim's prayer for peace
by Aminah Sharief Goling
In my own Mindanao
by Geejay Arriola
Abdul on the eve of an ambush
by Said Sadain, Jr.
Then & Now
by Macario Tiu
Death On The Tarmac
by Fr. Picx Picardal
Spirits In The Box
A Short Story

Featured Links
The Academy of Natural Sciences
The science behind some of today's leading environmental issues
Digital Libraries
The here and now of the future of libraries: they're on-line, they're invaluable
Bioethics
When Eraptions and political ethics are done and over with, there is still bioethics!
IslamZine
Learn more about Islam from the humble efforts of a Dubai Webmaster: May The Force Be With You!

Archives
More Bugsnbytes
The book BUGS & BYTES, In Bigger Prints, is now available at National Book Store outlets in MetroManila and the Universtiy of the Philippines Press Bookshop in Diliman, Quezon City.
Support B&B by searching and buying your books & CDs from here.
Abdul, on the eve of an ambush
by Said Sadain, Jr.

a rifle rests in my arms for now
steel chilling the bones which ache
for the children and the wife in my mind
and the maddening smell of morning rice
as in a dream along my nape
covered with hungry hair.

the rifle does not stir.
it could be dead except that it is not,
waiting maybe to answer questions,
a new breed of animal stalking,
mindless at how we could have summoned
the opposite man,
or peeped through our minds and witnessed
the broken trees churning clouds,
hurricanes and phantom rains
in our hunting grounds.

the night is old,
even the dark birds have ceased
calling down the curled-up moon
and fog hangs low on forest vines
and still lower heave
the spirits of the night.

in a while, the convoy will be stumbling
snakelike down the dirt road,
its headlights grappling onto rocks
trembling grass and darkness of the cliffs.
Wounded engines clawing like a cat,
the exacting lion hungers for the pounce.
truckloads of an estranged flag,
but what about
the drowsing fellow snug in his buddy's arms
maybe dreaming of the children and the wife
and the maddening smell of morning rice?

the dew is heavy on the head and i
am in danger of melting into mist,
entrapping sky and earth and wind
and howlings of the soul.
Other Poems In This Issue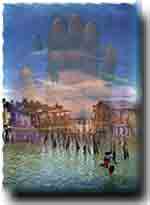 A Muslim's prayer for peace
by Aminah Sharief Goling
In my own Mindanao
by Geejay Arriola
Then & Now
by Macario Tiu
Death On The Tarmac
by Fr. Picx Picardal
Spirits In The Box
A Short Story